Screenshots of FileMakerPro Database Designs
by Rejyna Douglass
The database layout and functional designs, graphic elements, digital photos, and sounds are all the work of Rejyna. These screenshots are provided for those who do not have FileMakerPro, and are only examples of a few of the database layouts created by Rejyna, if an entire database was on this site it would take too long to download. Therefore, complete fully relational databases are only available on the CD or DVD Digital Portfolio Presentation by contacting rejyna@msn.com.
FileMakerPro is a non-proprietary, off-the-shelf FULLY relational database authoring program that is second to none! Microsoft brought Access to market to compete with FMPro, although Access is more bulky and has a less instinctive user-interface. Before programs like FileMakerPro and Access were available, companies wanting relational databases were burdened with investing thousands of dollars worth of programming, licensing, and follow up service fees. FileMakerPro is ODBC compliant and can be active-linked to spreadsheets (i.e. Excel) or mainframe (i.e. AS400) data streams so the database can access info from an unlimited number of sources. Multi-level password security, accuracy and complex scripting capabilities are highlights of FileMakerPro databases, as well as "Instant Web Publishing" to put your database on the web! For more info on FileMakerPro, visit www.filemaker.com
Click the links at left to open a database design

The Screen Shot below shows the Welcome Screen for a FMPro Database Catalog designed by Rejyna.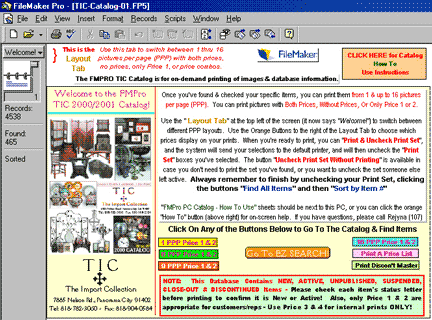 This website was designed and built by Rejyna M. Douglass © 2003-2004 DPP/RMDW ALL RIGHTS RESERVED. ANY MANNER of unauthorized copying, extraction, or any other use outside the live surfing of this site is prohibited by US & International Law. Several elements of this site are wholly owned and protected by their respective companies, and the use of these elements herein is in no way a representation of any endorsement or relationship they may or may not have with RMDW, these elements either represent the actual content created by RMDW, or the process/equipment/hardware/software/etc. used in the creation and viewing of the presentations and elements within. This is a Portfolio Site with the sole intention of displaying the multimedia creations and productions of RMDW. There are no costs associated with this site's use and no products, transactions, unsolicited emails or information sharing is offered, implied or permitted.
CITADEL® is a registered US Trademark and is used herein with exclusive permission.
Digital Portfolio Presentations ™ is a service mark of W.E. and is used herein with exclusive permission.