Still Image Virtual Gallery » Props & Models... » Close-Up
When you've finished viewing the image, close this window to return to the Gallery Thumbnail Window
www.rejyna.com
rejyna@msn.com
Although there were many props & models that Rejyna worked on, there just aren't that many shots that show the core of the constructions. As the archives are digitized, more images of Rejyna's models & props will show up here...
This first shot is from a Polaroid: the "stalagmites" were cut from large pieces of packing foam, whittled & carved by hand, painted with glow paint & fireproofed. Dozens of these props were assembled in a local haunted house, after their debut on stage with a sci-fi rock band during the video "Winter's Dying" from the Hollywood Live Shows release.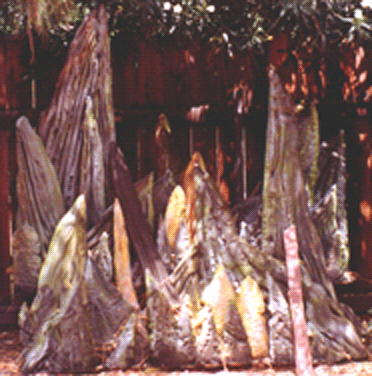 The shots below show a model that Rejyna built for a 3D shot that was used in a composite that Kodak distributed at exhibitions with 3D glasses. Rejyna built the ship entirely from Kodak products, parts of cameras & projectors, along with film cans, film cartridges & decals. The ship was modeled after Star Trek's Enterprise. The model was then shot with a NASA background using a special camera setup. Rejyna's 3-D meteor slogan read "boldly going where no image has gone before" Below are some stills taken during the construction of the model.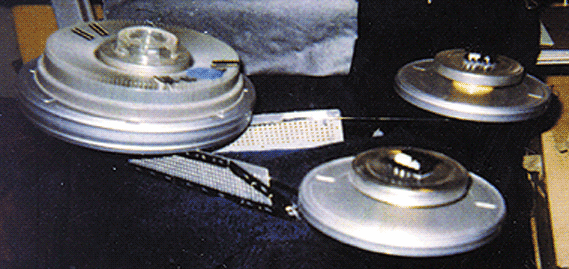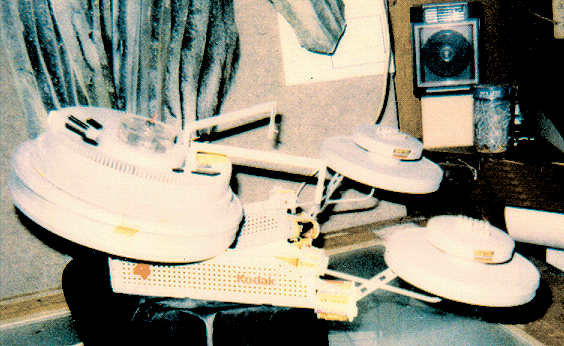 Below is a one of a series of flats that Rejyna created for a play production