Microsoft PowerPoint show(s) created by Rejyna are listed at the left. PowerPoint Shows can contain .wmv clips, still images, and/or sound files. Most PowerPoint presentations run between 5-10 minutes each.
You need PowerPoint or PowerPoint Player installed on your computer. The option to install the stand-alone player may also be available when you click a presentation. You will also need the latest editions of either Windows Media Player, QuickTime, or RealPlayer for WindowsMedia content within these PowerPoint Presentations.
Once you click a show link in the left two columns, it may take up to four minutes to load this presentation if you are on a standard dial-up connection, DSL & Broadband are much quicker. Please be patient, although a blank screen loads first, the show will begin after fully downloading. Once it does, click your mouse on the screen to continue on to each slide in a show.
If you get the option or dialog box then CHOOSE "OPEN FROM LOCATION" (not "Save To Disk") since elements are not embedded into shows, they are linked to locations in this site/disc.
During the presentations, you mouse-click to advance to the next slide in the show, although the linked a/v media clips advance on their own at a general reading pace.
CD & DVD Portfolio User Hint: When a presentation is completed, close the clip file using the PowerPoint pull-down menu, (see picture below) then minimize your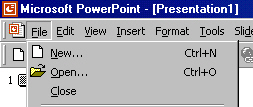 PowerPoint window & return to this screen to
click on & view another show. This way you won't be closing & reopening the program for each show you view.
Presentations for Windows Media
Player, Acrobat, FileMakerPro
and Explorer/Netscape browsers are also included at:



Return To Home Screen or Return To LoSpeed TOC
www.rejyna.com
email rejyna@msn.com
"CREATIVE SERVICES FOR THE CREATIVE PROFESSIONAL"
MUSIC - VIDEO - PHOTOGRAPHY - WORD WORKS
ILLUSTRATION - WEBSITES - DATABASES